INSPIRATION
December 5, 2018
VENDOR SPOTLIGHT: Table for Louis
Luxury tableware for hire like no other
Styling. One of the most exciting (not to mention, important!) elements of planning your big day. An opportunity to showcase your taste, personality + dreams… One area where you can be as creative as you like are your wedding tables. Tablescapes are a beautiful way to incorporate your styling ideas and actually play a huge role in dictating the atmosphere of your celebration of love.
So it goes without saying, that a crucial part of any tablescape is the tableware! If you happen to be in search of high quality, luxury tableware – we're talking Waterford crystal glassware, Limoges plates, Vera Wang for Wedgwood plates, Rosenthal dinnerware, customised cutlery + linen – look no further. Local business, "Table for Louis," is your one-stop-shop. They pride themselves on providing a luxury hire service that includes the best quality tableware that has never been seen before.
We had the pleasure of sitting down with the owner, Judy Goffman, to delve a little deeper and discuss her passion to provide a luxury tableware hire service, the importance of a beautiful table setting, where she finds inspiration and how she works with wedding planners + stylists to bring your creative vision to life and ensure that you and your guests enjoy an incredibly special and spectacular dining experience.
Judy, thank you so much for your time. Please share with us what you love the most about being a supplier of luxe tableware?
There are a couple of reasons I love being a supplier of luxury tableware. First is being able to offer to my clients and to amazing stylists and planners within the wedding industry something that is so unique, of excellent quality and is authentic. My tableware that is available for hire and that is used for the table styling is not found anywhere in Australia, and for those who understand what is being offered, they truly appreciate what they are getting. I love that I offer that.
My second reason why I love what I do is seeing people's reactions when they see the tables set. I look forward to that reaction every time. I often get told that my tableware just takes things to the next level of luxury and always contributes setting a gorgeous ambience. I'm always honoured to be able to provide that.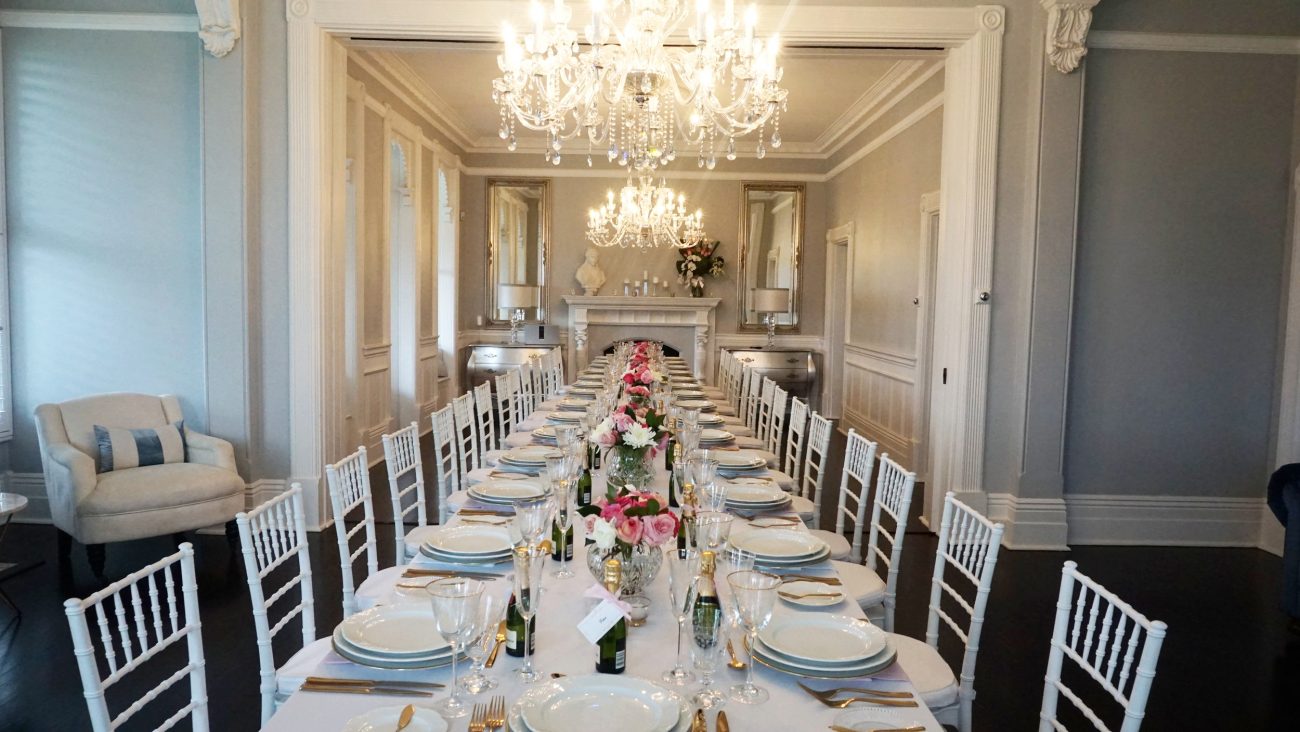 Just how important is it to have a good table setting at a wedding?
I think that it is very important to have a good table setting at a wedding. That and beautiful flowers. Providing a stunning table setting for your guests immediately tells them that you have gone to a great effort for them and that you want nothing but the best for them.  People recognise when they sit at a table and they have beautiful crystal or beautiful dinnerware in front of them. The appreciation is immediately there. It really does take the wedding to a whole different level.
Where do you find inspiration?
When I first started Table for Louis my inspiration came from a lot of American tableware hire and styling companies like Casa de Perrin and Borrowed Blu and that both in the USA and Europe it was the norm to set beautiful tables all the time with luxury tableware for weddings or simply for a lunch or dinner leading up to a wedding. I wanted to be able to provide this in Australia.
As Table for Louis evolved my inspiration comes from my family. My husband and two sons greatly support and encourage me to do what I am doing.  They are proud that I have come up with a concept that no one else offers in Australia and that my little business that was meant to be styling for intimate dinners up to 30 people has grown in less than 18 months to supply tableware for up to 150 people.
Then I have the support of some amazing people in the wedding industry who have greatly supported Table for Louis, so it's only natural that I want to offer more great and luxurious tableware. Watching some industry experts bring together the most amazing weddings is very inspiring to me, so I am always looking to add more beautiful pieces to my collection that can be included in their designs and their clients' special day.
When meeting with a wedding stylist or any of your clients, where do you start?
Initially I always make sure that I meet with a wedding planner or stylist so that they can see first hand what I have to offer, particularly the quality and authenticity. I take a piece of everything I have. I think it is important to meet rather than just directing someone to my website or just emailing. The same is with any client. I always meet them and show them what is available and they can choose what they like. Often they end up with something totally different to what they first hand in mind because they get to physically see all the tableware first hand. The visual aspect of this meeting is important because it becomes it puts the brides mind at ease and she knows what she is getting on her wedding day.
Is there a particular wedding that comes to mind where you were especially impressed with how the planner styled your tableware?
It would have to be the Rehearsal Dinner created by The Events Lounge for Tomas and Anastasia at Elements in Byron Bay last December. My tableware was styled beautifully! Platinum charger plates from Limoges were supplied for 50 people with silver rimmed Monique Lhuillier for Waterford dinner plates. Waterford crystal glassware, our silver cutlery customised with our logo on them and charcoal French Linen napkins were beautifully set. The whole setting was set alfresco at Elements Byron Bay and the quality of the whole event was just spectacular. I loved that no table cloths were put on the tables. It showed beautifully what I consider one of the mottos for Table for Louis, and that is that you can mix traditional tableware with modern elements and you will get a very chic, on trend and stylish outcome. I was honoured to have been asked to supply for that event.