INSPIRATION
October 11, 2018
VENDOR SPOTLIGHT: Florals & Co
Boutique floral studio based on the Gold Coast, owned + operated by Sarah-Mae Amey
---
Introducing Sarah-Mae Amey: the talented and inspiring florist who owns and operates Florals & Co. – a boutique floral studio based on the Gold Coast. With over 15 years experience on the Gold Coast, Northern NSW and Sydney as in-house event florist for some of Australia's leading venues such as The Sydney Opera House, Aria Catering, Chiswick + The Royal Sydney Golf Club, Sarah-Mae has planned and executed the floral styling for hundreds of weddings, events and editorials over the years. This experience combined with her professionalism, extensive knowledge and love of flowers has helped grow Florals & Co. to where it is today.
We chatted to the beautiful Sarah about how she found her way into floristry and how to create the perfect bouquet for the modern GC bride…
---
How did you get into floristry?
When I was 12 years old I started working in a beautiful local Florist shop where I worked for ten years before moving in to the world of Wedding + Events Floristry five years ago.
Describe your floral style in 3 words.
Adaptable. Modern. Thoughtful.
Can you tell us more about your sought after signature style?
I say that my signature style is adaptable as I don't like all of my work to look the same or to follow trends, and I instead choose to base my Floristry around each client's personalities, so I try to find out as much as possible about them and their style before designing something in my mind.
What is your favourite flower and why? You can only choose one!
Very cliché, but a Rose. There are just so many beautiful varieties around these days that make them my hands down fav!
What do you think will be the floral trends for 2018 Spring/Summer bridal bouquets?
Simplicity. Less varieties of flowers and minimal foliage.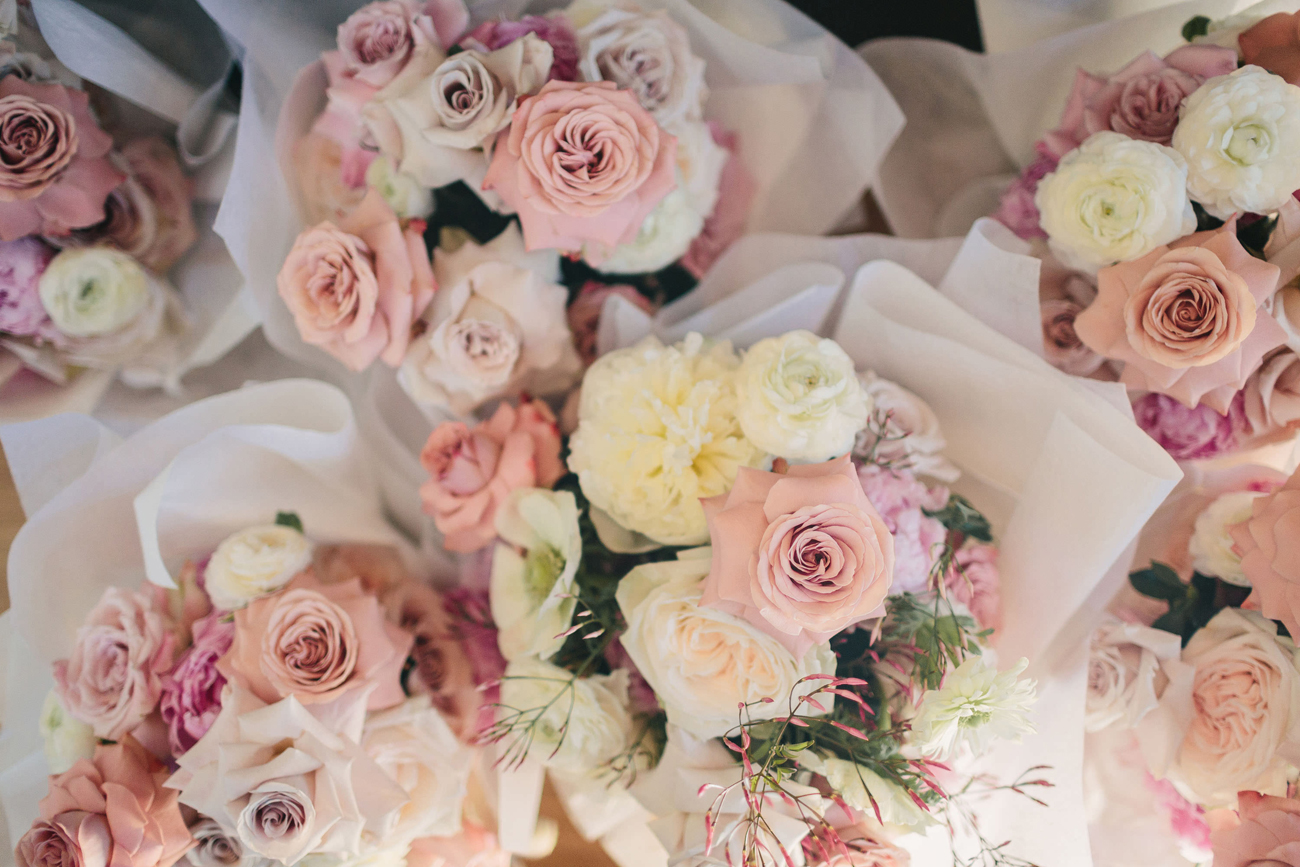 How would you begin to create an arrangement for a bride?
As I mentioned earlier – finding out as much as I can about the Bride's personality, then I would design something in my mind and usually I sketch a lot of things out on paper; this often happens at the most random times when an idea comes to mind. Followed by making sure each Bloom we are going to create with is of the highest quality and super lush!
Do you have any advice for brides who are planning their floral arrangements for their wedding?
Don't go too deep down the "Pinterest vortex rabbit hole" (that's what I call it) as it can be SO overwhelming. Pick out 20 key images from Pinterest, then take a little time away from looking at them and when you go back to them see which ones you are immediately drawn to again.
You've forged a successful career by creating Florals + Co, what do you think are the keys to success in the bridal industry?
Be a nice person! I really do pride myself on customer service trying to go above and beyond for every client no matter how difficult they might be. So much work for anyone in the bridal industry comes from referral, whether that be from a Bride or another industry vendor so always be kind.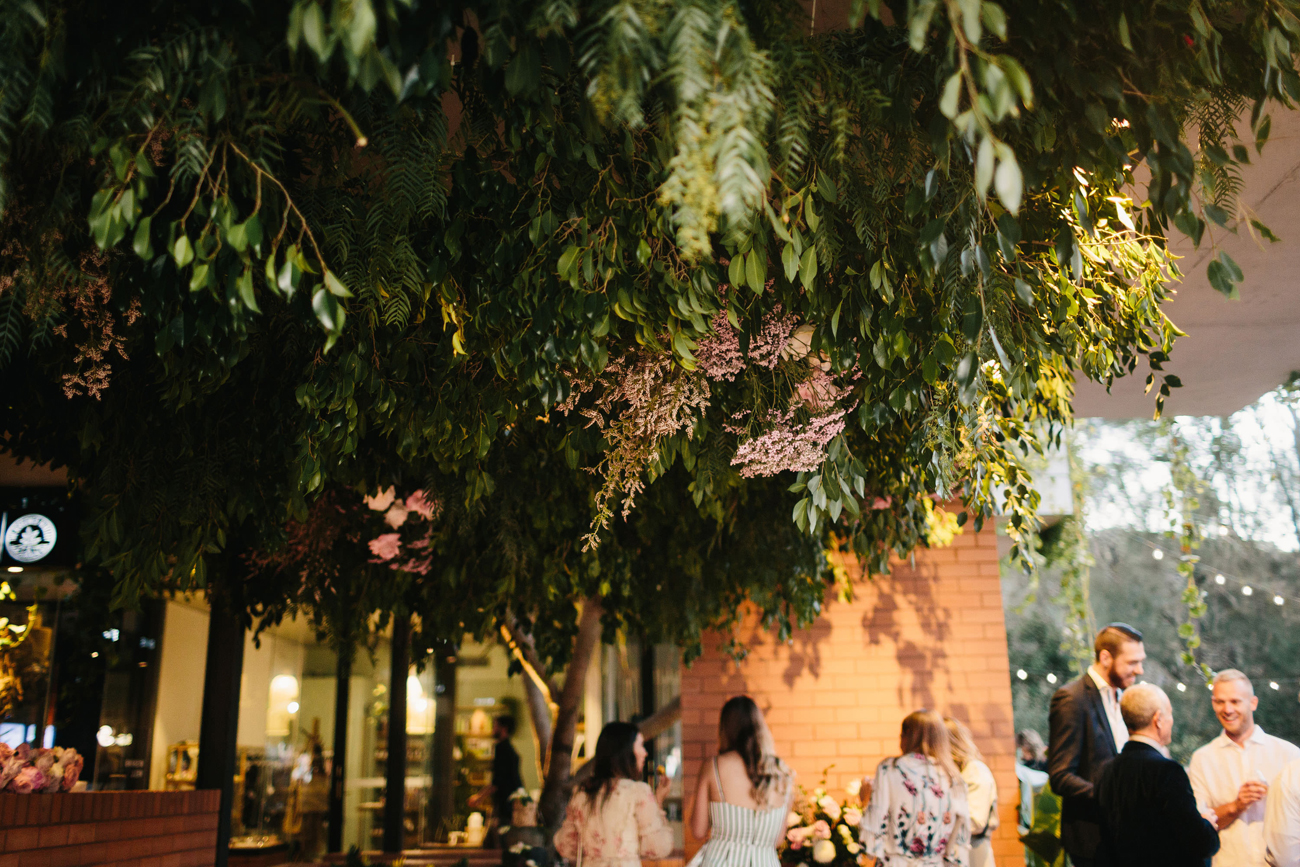 Describe your dream bouquet for the modern Gold Coast bride…
Ahhh this one is too hard to answer as I have so many different dream bouquets haha, but if I had to pick one it would be a classic unstructured bouquet of long stem plump and lush big headed roses.
Can you share any funny or crazy experiences that you've encountered as a floral stylist?
Oh gosh yes, how much time do we have? There have been so many throughout the years that all end up being learning experiences. Trying to accommodate Aunt June who has done half the flowers DIY for the day + really wants them to outshine mine but the Bride forgot to tell me (this has happened many times). Or, the Bride providing a DIY arbour (metal garden arch from Bunnings) as they didn't want to hire one + it kept falling over from the weight of our big floral installation, so up the road I ran to find some heavy bricks to keep it in place right before the ceremony! Or working in 40 degree heat in a Marquee in Gold Coast summer + my staff nearly actually fainting along with some severe sunburn, so I take plenty of water + hats + sunscreen on site with me always now haha.
Have you worked with any celebs florals?
Yes, but they are all just like normal people to be honest so it's just like any other client. I treat everyone the same.
We're wondering, do you always have beautiful flowers in your home?
I always have one really beautiful bunch of whatever is seasonal + lovely on my dining table. My favourite flowers for the home are Tulips as you just pop them in a vase and leave them to grow, transform + change shape!
Why do you love what you do?
It's all I've ever done and I couldn't imagine doing anything else. Wedding/Event Floristry is really full-on + hard work but I cannot even describe the feeling of getting home from a big wedding set up soooo bloody exhausted but also so extremely proud of what you have created that day for a lovely couple's dream day. It's the best feeling!
What motivates you daily?
My clients, because I want to do them proud! And my staff who I would legitimately be lost without and probably in a rehab facility for stress haha.
What's the biggest lesson you've learnt as a florist and what advice would offer someone who is just starting out in the industry?
Strong relationships with your flower growers/wholesalers + other industry vendors is so important! Look after them and they will look after you! If you are just starting out in the industry, get in touch with local floral designers to do work experience + offer your time for free. Invest money + time in yourself by doing workshops hosted by your favourite floral designers or going to the flower markets + buying beautiful flowers in different colour palettes to create designs at home that you can take photos of with a nice backdrop + good quality camera because an image portfolio is EVERYTHING as people will hire you for their Wedding based off photos of your work as that is your shop front if you don't have one.
Where can flower lovers frequently find you around the Gold Coast?
At the beach, local farmers markets, Rick Shores eating my body weight in Bug Rolls + French Rosè, or usually always working in my pretty flower studio with R 'n' B Fridays playlist on repeat.