INSPIRATION
September 27, 2019
THE HITCHED LIST: 'Less-is-more' – our top 5 silk dresses and accessories that elevate
It's no secret we are big fans of an effortless 'less is more' look. To that end, we feel it's hard to go passed a sexy silk slip or gown, which beautifully highlights a woman's natural figure, drawing the eye with subtle movement. The silhouette combined with ease-of-wear and subtle yet striking accessories, creates the perfect less-is-more ensemble. Delicate, elegant and captivating.
And the best part, this style suits most occasions – engagement party, wedding or just a casual dinner with friends.
So this week on #THEHITCHEDLIST, we share "Our Top 5 Silk Dresses + Accessories That Elevate" from a range of different brands and price points.
---
1 | GRACE LOVES LACE
Summer
$1,990
Elegant. Effortless. Striking. The Summer is the simple and sexy silk wedding dress you've been longing for. A luxurious bias-cut, double-layered Crepe de Chine silk gown, with fine silk straps, a v-neckline and daring low back. Years in the making, it's the perfect effortless silk silhouette for the modern woman.
Essie Earrings
$340
Understated, modern and effortlessly elegant, the Essie earrings feature oversized pearl studs and clusters of lustrous keshi pearls that have an organic shape and natural luminosity. They're exclusively handmade in Australia by Salita Matthews for Grace Loves Lace.
---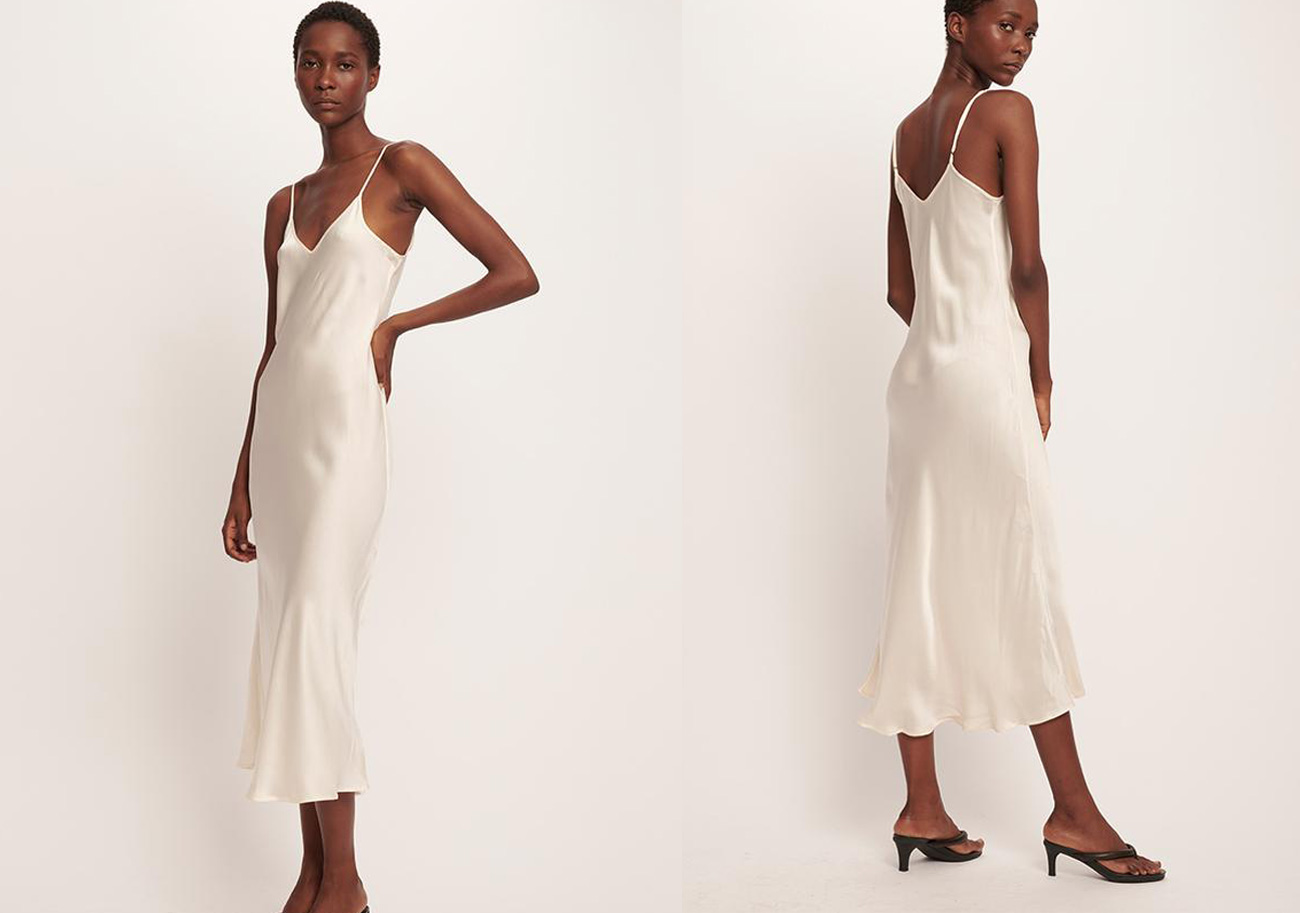 2 | SILK LAUNDRY
90's Silk Slip Dress Ivory
$250
Silk Laundry's 90s Slip Dress is for the refined woman. A V-neckline and adjustable spaghetti straps meet a bias cut to fall beautifully against the body, inspiring a feminine silhouette. Effortless for both day and night, this piece is the first edition for building an enviable slip dress collection.
---
3 | SPELL & THE GYPSY COLLECTIVE
Rosalie Jacquard Slip (White)
$259
Spell's sizzling sensual Rosalie Jacquard Slip with its chic bias cut, plunging V neck and classic pin-tuck detailing at the bust is a smouldering beauty that will certainly leave all eyes on you. Crafted in a luxurious silky jacquard, this form-fitting style is a glorious update on their signature slips and is packed with detail to create an effortless silhouette. Featuring rope detailing on the bust and sleeves and lining at the bust for easy-wear, this show-stopping slip will take you from New York nights to ravishing resort-side cocktails without a worry. Wear it with a slim heel and fine jewels a captivating party ensemble or tone down the outrageous glamour with a simple slide for a mid-summer night's mingle. Beautifully textured, with a slinky finish, this covetable piece is a certified knockout and will surely be a hot favourite.
Stargazer Zodiac Necklace (Gold + Silver)
$199
This double charm Zodiac Necklace is made with 22K Gold Vermeil or .925 Sterling Silver. A stunning layering necklace set on a delicately twisted gold or silver chain – made for stargazers, wanderers and sunset lovers alike. Handmade in India by Fairtrade Certified Artisan group, the necklace is made in either Sterling Silver or Gold Vermeil, which is a thick coating of 22k gold over a base of sterling silver. Each necklace comes with an individualised zodiac card.
---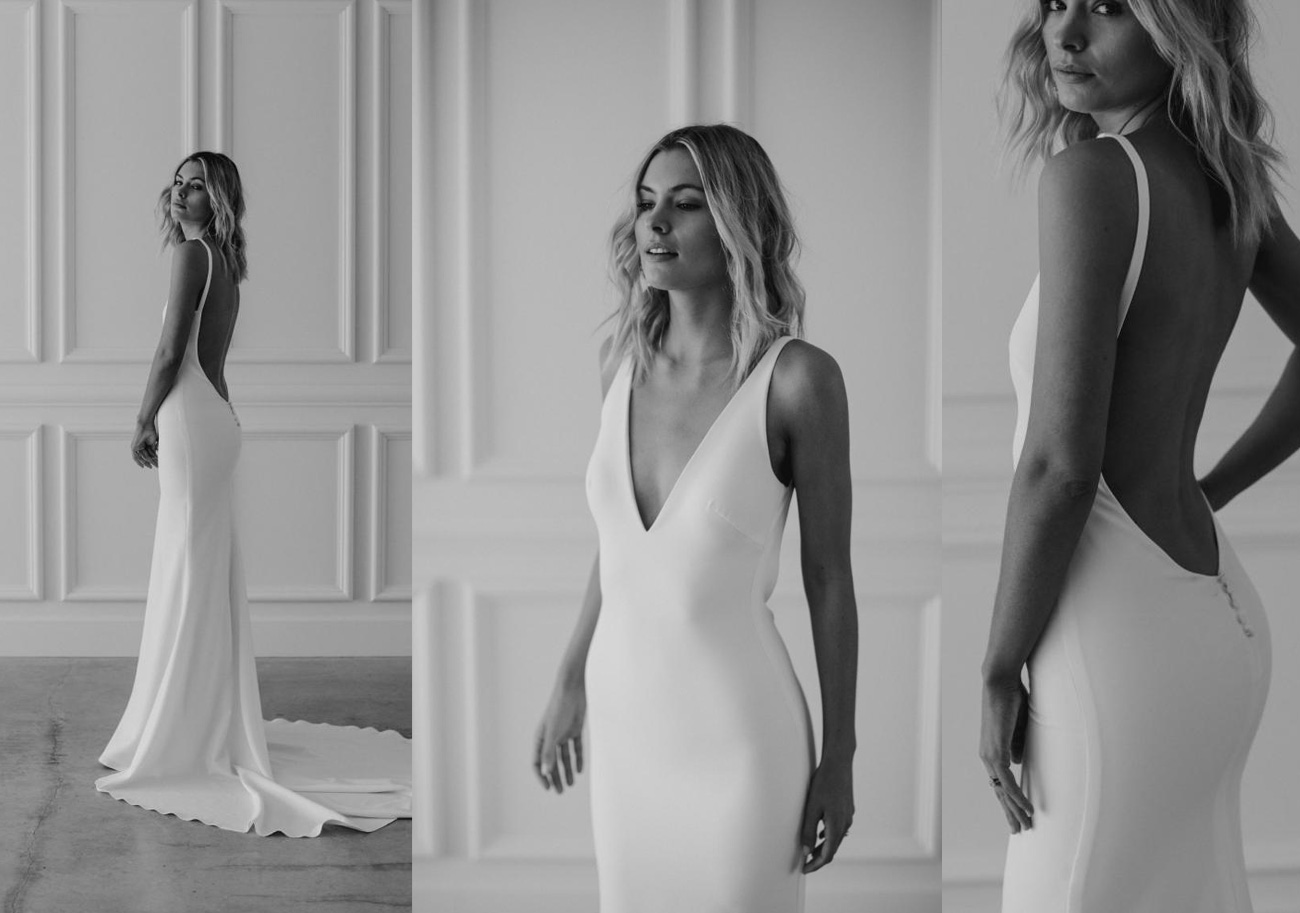 4 | MADE WITH LOVE BRIDAL
Georgie Crepe V2
$3000
Georgie is a sleek silhouette of superb class and sophistication. She has no sharp edges, except her edge for beauty, for she is completely smooth. Her Italian made lace divinely flows like a glorious river. The way she holds the body and delivers your shape to the world will empower you and whisk you away, ignighting passion and romance. Georgie is not for the faint of heart. She is for the bride who wants to be seen and celebrated for all the curves and highlights of the body natural design.
ELVIS ET MOI
The Honeycomb Earrings
$290.00 AUD
Elvis et moi's Honeycomb earrings are an easy drop earring selection to complement your special look. Match with the Rayon choker or, leave your neckline bare and wrap your wrist with the Goddess bracelet, bearing complimentary golden discs.
The Pearl bangle
$95.00 AUD
The Pearl Bangle's delicate wire and singular freshwater pearl will wrap your wrist and sit daintily just near a clutch of fresh flowers. Wear alone or pair with the Pearl Bracelet for additional texture and matching features.
---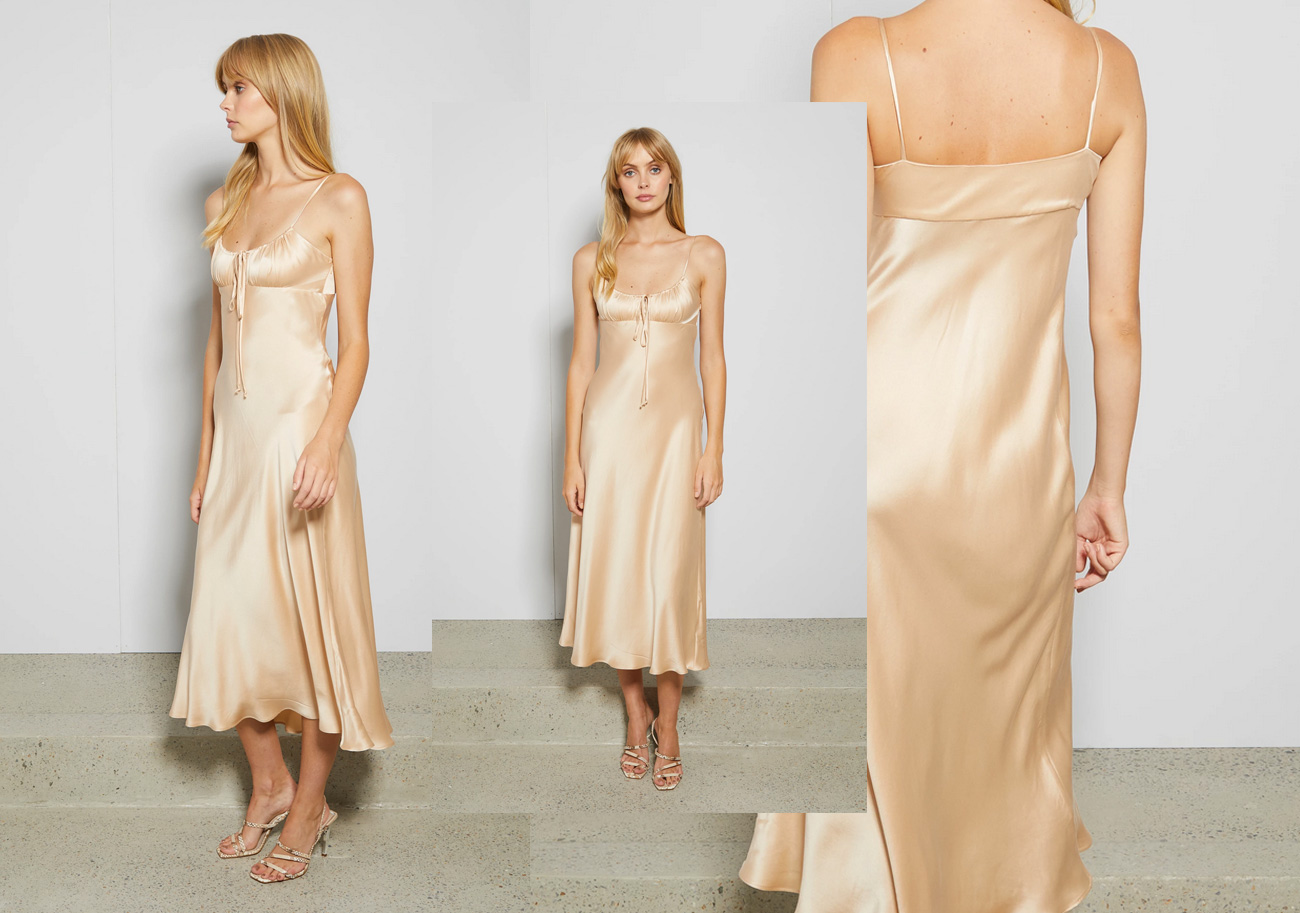 5 | BEC + BRIDGE
Margareta Midi Dress
$340
– Washed silk midi dress with gathered bust detail
– rouleau scoop neckline
– centre front tie front detail
– under bust seam
– gathered bust
– bias cut skirt
– Designed in Australia, made in China
MAMA S PEARLS PEARL Earrings
$200
From their Bec + Bridge x F+H Jewellery collaboration, the Mama's Pearls Earrings are a modern design featuring two organic shaped hoops suspended from a pearl in an irregular bezel setting. This feminine design was influenced by French short film 'Pearl Divers' directed by Pictoresq.